Custom solutions for complex industrial applications
Magneto Electric specializes in the sale, installation and programming of motor controls including variable-frequency drives for motors used in HVAC systems, Pumps, Fans, compressors and many other industrial applications.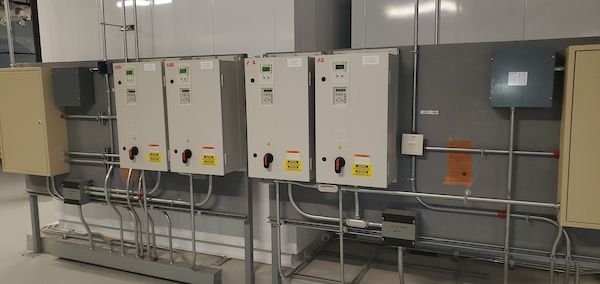 Key Benefits
What is A VFD
A variable-frequency drive (VFD) is a type of motor drive used in electro-mechanical drive systems to control AC motor speed and torque by varying motor input frequency and, depending on the electric circuit, to control associated voltage or current variation. Systems using VFDs can be more efficient than those using throttling control of fluid flow, such as in systems with pumps and damper control for fans.
Energy savings
In North America, an estimated 60–65% of electrical energy is used to supply motors, 75% of which are variable-torque fan, pump, and compressor loads. It's estimated that if efficient energy improvement technologies such as VFDs were implemented, nearly 18% of the energy used could be saved. In many applications the net payback in energy savings is significant.
Control performance
AC drives are used to bring about process and quality improvements in industrial and commercial applications' acceleration, flow, monitoring, pressure, speed, temperature, tension, and torque.
Fixed-speed loads subject the motor to a high starting torque and to current surges that are up to eight times the full-load current. AC drives instead gradually ramp the motor up to operating speed to lessen mechanical and electrical stress, reducing maintenance and repair costs, and extending the life of the motor and the driven equipment.
Services we offer
Onsite start up support for new and retrofit projects
Observing the unique application, collection of the motor specifications, studying the control and wiring diagrams, and configuring the appropriate VFD chassis/wall mounting or cabinet type.

Basic keypad or advanced graphical keypad and OEM software are being used during VFD commissioning and testing with proper project management.

During commissioning of the VFD, the equipment at the project site is checked, inspected, tested, and configured to meet the customer's technical and industrial communication language requirements.

Easy maintenance and protection by choosing the factory build VFD enclosure type or with some integrated features with VFDs such as Bypass, disconnect switch, Braking options, Line/Output Filters, Line/Output Reactors, optional field bus adapters, I/O Extension and keypads, Auto/Manual Selector, Potentiometer and Service Switch.

Startup/Training and backup of parameters via Secure SD cards and OEMs Software files.
Repair
Onsite removal of faulty VFDs.

Inspect and test all parts and components of VFDs. e.g. PCBs components, IGBTs, Power Supplies, Communication cards, cables and keypad.

Replace faulty parts and components, and full testing prior to re-installation.

Onsite installation of repaired VFD, final test with application and QA.

We are an authorized distributor for a wide range of variable frequency drives from manufacturers like: ABB, SIEMENS, WEG, TECO, Mitsubishi, Allen Bradley, VACON, EATON and others.
Related Industries
Who We Can Help
Interested in Our Services?
CONTACT US TODAY!