Extend the Life of Your Motor with Vacuum Pressure Impregnation
For every 10 degrees a motor runs over its rated temperature, the life of the insulation in that motor will be cut in half. A motor's ability to dissipate generated heat into the atmosphere is a part of its calculated efficiency, as well as its effective life span. When a motor is dipped in varnish and baked, air can get trapped in the windings. Air is a very poor conductor of heat as opposed to a solid mass.

Vacuum pressure impregnation from Magneto Electric provides maximum protection of the winding with minimum coverage. Too often, many coats or multi-dipping of varnish creates a heat jacket around the winding which restricts heat dissipation.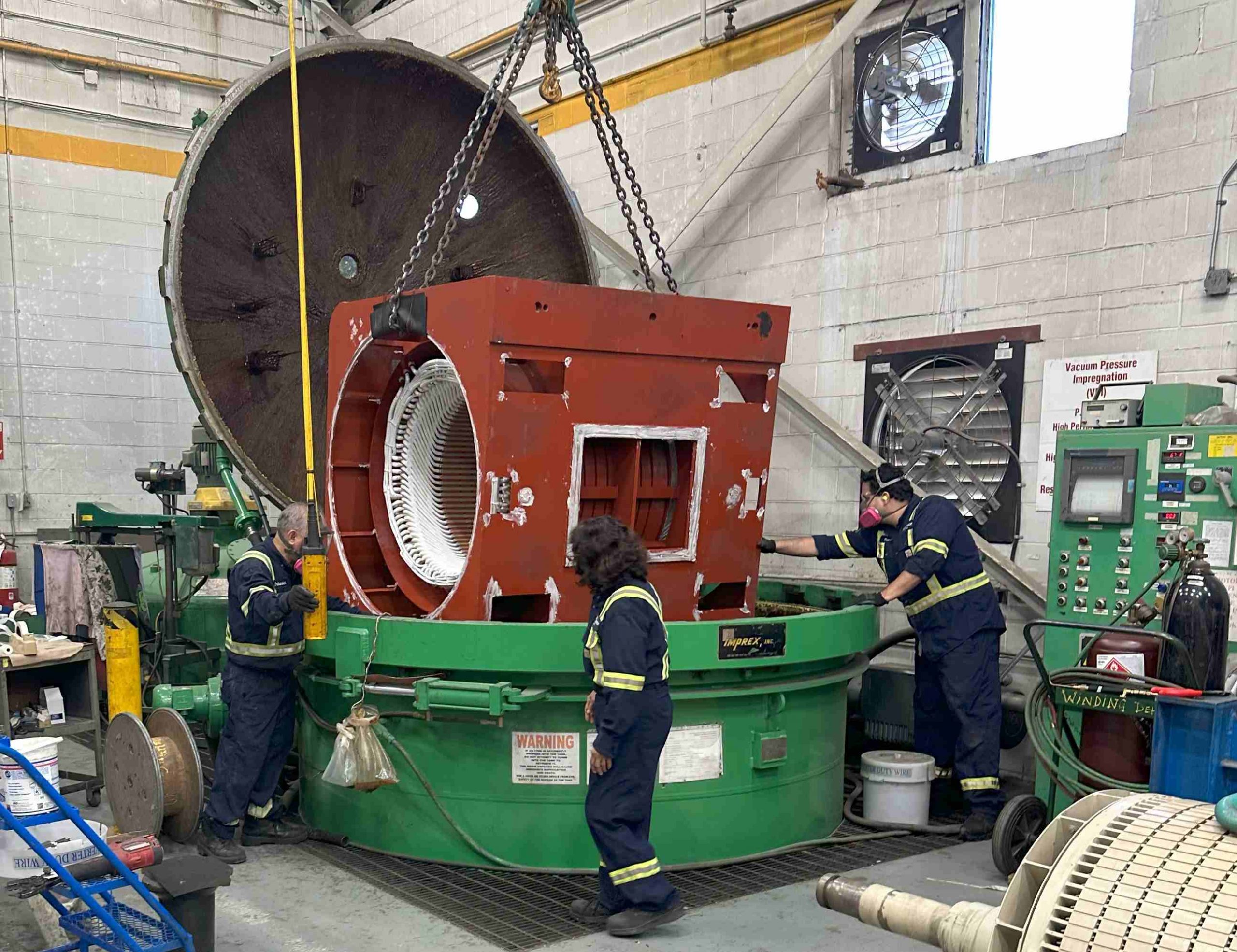 Key Benefits
Vacuum Press Impregnation
Magneto Electric's High Performance VPI Resin Provides Many Advantages for our clients.
Improved Electrical Characteristics
VPI not only improves the mechanical bond of the winding insulation system. It also improves the electrical characteristics of the winding to 5300 volts per mil dielectric strength and a 220% C temperature rating.
Improved Inter Turn Insulation
Resins expand and contract with the windings, eliminating cracks and ensuring proper insulation.
Improved Resistance to Chemicals and Moisture
Protect your electric motor and extend its life and reduce down time.
Zero Cracks
Copper windings expand and contract depending on the temperature. Most varnishes expand with the winding as it gets warmer and larger but do not contract to their original configuration when cool. This creates voids in the winding. The Elantas PDG high-performance resin breathes with the windings. It expands and contracts with the winding leaving zero cracks, contamination or degradation to the insulation system.
The VPI Process
In the Imprex VPI chamber, the vacuum process removes all air and moisture from the windings.
The regulated vacuum draws the Elantas PDG solvent-less resin throughout the windings from an adjoining vessel.
A calculated and timed pressure is applied and forces this resin into the copper windings, tape and any empty air pockets or voids.
The final process is achieved by curing the stator or armature in our temperature-controlled oven, creating a solid mass which is an excellent conductor of heat.
We Use Vacuum Pressure Impregnation in:
Medium and high voltage equipment
Direct current field coils and armatures
Motors with inverters as power source
Problem motor applications
Related Industries
Who We Can Help
Interested in Our Vacuum Pressure Impregnation Services?
CONTACT US TODAY!