Detect Equipment Problems Early with Infrared Thermography
Magneto Electric offers non-contact infrared thermography services in Ontario to detect problems early. We provide this service during your normal operating conditions. This means no interruption to production schedules and it helps you avoid unexpected downtime due to equipment failures.

Whether it is electrical, mechanical or process related, equipment failure can result in costly downtime, lost production, safety hazards and increased maintenance costs. Normally, equipment gets hotter before it fails and your plant's equipment is no exception!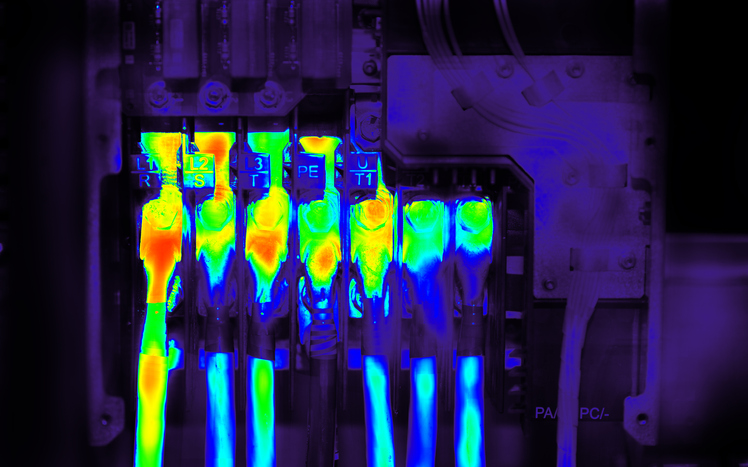 Key Benefits
Benefits of Infrared Thermography
Heat is often a sign of wear and stress. Fining the hotspots is critical in diagnosing maintenance items on your electric motors.
Avoid Downtime
Finding hotspots and signs of wear are a great way to find problems that aren't otherwise visible. Save money by avoiding downtime with Infrared Thermography.
Increase Safety
Hot spots on electrical equipment aren't only signs of stress but could result in a catastrophic failure or combustion. Seeing hotspots with infrared thermography can increase safety by recognizing issues before a catastrophic failure happens.
Improved Reliability
Knowing where problems are by seeing them with infrared thermography helps you correct problems early and improve the reliability of your equipment.
State-of-the-Art Infrared Camera Detects Hot Spots
Infrared thermography is a technology which allows us to see and measure thermal energy. This energy is captured as an image by a state-of-the-art infrared camera. The images are then processed, analyzed and stored with our advanced computer software.
Magneto Electric's certified infrared thermographers will help improve your plant's reliability by applying this technology to any of the following areas:
Motors
Motor control centres
Transformers
Main feeder panels
Bus ducts
Electrical connections
Distribution panels
Steam systems (traps and lines)
Mechanical (belts, bearings, etc.)
Insulation and refractory
Building thermography
Related Industries
Who We Can Help
Interested in Our Infrared Thermography Services?
CONTACT US TODAY!