Keeping your operations running with minimal disruption is our priority
With over 76 years of experience, Magneto Electric is uniquely qualified to provide a variety of pump repair services, including bearing and seal replacements, leak detections, impeller balancing, and more. Whenever you require pump repair in North America, you can count on Magneto Electric Service to get it done right. A full test of the unit and breakdown of all worn parts will be performed before a price estimate and report of labour and material are issued. No work is performed without the customer's approval.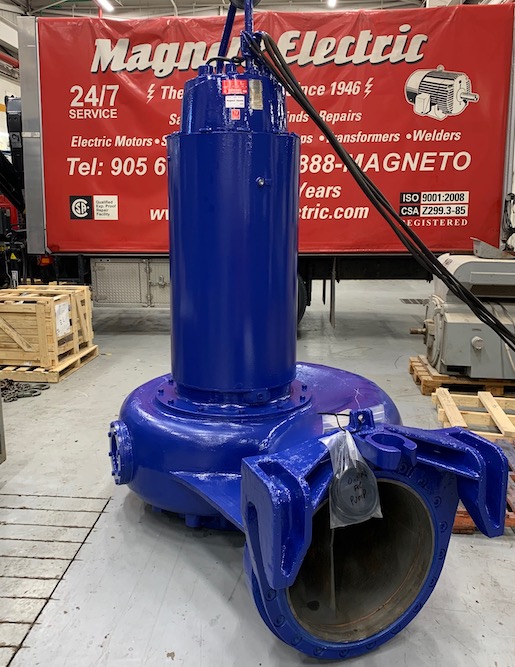 Key Benefits
Service backed by the industry's highest certifications
Available 24x7 / 365 days a year
Superior customer service a key component to all we do. At Magneto Electric we understand that each minute of down time is greatly impacting your bottom line and that is why we are proud to offer immediate 24/7 365 round the clock support to our customers. Regardless of time of day, day of the week or holiday our service experts are standing by ready and waiting to assist.
Full Turn Key service
Why slow your operations down any more than they need to be when a pump is out of service, our team offers full turn key services including coming on site for removal, bringing it back to our facility to service it and returning and re-installing it should this be an option you need to get your operations back up as soon as possible.
A pump is designed to move a liquid, gas, or sometimes a slurry mixture by means of a mechanical action. It is this mechanical action that creates negative or positive pressure in order to move the medium from one location to another. Because they are mechanical in nature, all pumps will fail over time. Like many mechanical devices, the most common fail point of a pump is usually the area that receives the most friction. This may be a seal, bearing, or even an impeller after becoming imbalanced.
Fortunately, Magneto Electric Services is available to perform a variety of pump repairs.
Bearing and seal replacement
Leak detection and resealing
Impeller balancing and replacement
Refurbish and re-coat pump housing
Pumps installations
Laser alignment
Related Industries
Who We Can Help
Interested in Our Services?
CONTACT US TODAY!