Nuclear Electric Motor Service
Magneto Electric provides comprehensive nuclear power plant reliability and maintenance services, including servicing, rewind and repairs of all motors, generators and pump motors. Focused on safety and quality at all times, we comply with all standards and regulations including CANPAC audit. For clients with multiple plants, we can standardize maintenance and reliability with a consistent, predictable service standard. When it comes to nuclear repair services, we offer the experience and skills you need to get the job done right.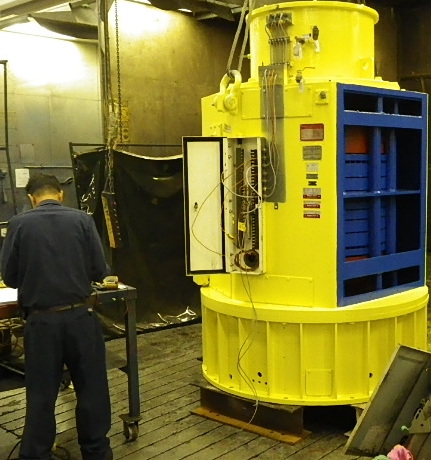 Key Benefits
Nuclear
Magneto Electric offers a range of benefits that suite the nuclear industry. Our services are designed with strict N299.2-16 standards of the Nuclear Industry in mind.
Decontamination
Our partners include select Canadian companies that specialize in decontaminating nuclear motors to free-release condition for repair and rewind. When motors can't be free-released, our technicians will perform repair and/or rewind services on the apparatus in its contaminated state at our dedicated facility.
Comprehensive Testing
Industry-leading diagnostics are used to validate recommendations, document performance and support one quality service standard nationwide.
Premium Rewinds for LPSW, HPSW, CWP Motors and RCP Motors
Magneto Electric rewind technologies come with motor redesign or upgrates, as well as mechanical modifications to enclosures, shafts, seals, fans and bearings. Our engineered systems meet the standards of the world's most demanding applications, and our comprehensive services include evaluation, rush service, technical support, manpower support and 24-hour on-site service.
Focus on Quality & Safety
Magneto Electric offers industry-leading quality assurance programs, tremendous value and remarkably short lead times. Our Quality Management team works with other quality-focused team members to determine program architecture, document quality and instigate continual improvements.
The quality systems implemented by Magneto Electric are based on the quality management standard of CSA N299.2-16 and ISO 9001-2015. Registered and certified by QUASAR (CWB Group) the internationally recognized quality registrar. Our quality assurance program is audited regularly by the customer's external auditing third party – CANPAC, to ensure compliance the Nuclear Standard requirements
With an experienced team and fully compliant inspection and test plan (ITP) incorporated into work processes, we can successfully handle the rigorous requirements for a range of nuclear projects including in-plant repairs and field services for nuclear motors and mechanics that are both safety and non-safety related.
Related Industries
Who We Can Help
Interested in Our Nuclear Electric Motor Services?
CONTACT US TODAY!