Building & Repairing Transformers in Toronto for Over 75 Years
Magneto Electric is your source for comprehensive manufacturing and transformer repair service for transformers in Toronto and throughout Ontario. For more than 70 years, Mississauga-based Magneto Electric has lent its expertise toward fulfilling the region's electrical transformer needs. These include services, maintenance, and repairs to the following types of transformers: Dry-type and liquid-filled transformers, Integrated outdoor substations, Specialty solutions including distribution, K-factor, traction duty, isolation and motor-starting auto transformers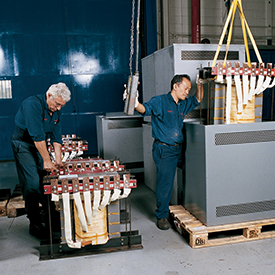 Key Benefits
Transformer Service
Do you need a dependable source for transformer solutions? Give us a call today and set up a meeting with one of our reps.
Complete Reliability
Magneto Electric has been building and repairing transformers in Toronto for over 70 years. With excellent service and industry-leading expertise, we provide solutions that will power your business for years to come. Quality is guaranteed. Our company is ISO 9001:2015 certified.
CSA Certification
All dry-type transformers are designed, built and tested to CSA C9 M1981 standards and are certified to CSA standards C22.2 No. 47-M90 up to 12 MVA, 34.5 kV Class, 150 kVBIL. Liquid-filled transformers are designed, built and tested to CSA standards C227.2, C227.4, C2, C88 up to 20 MVA, 72.5 kV Class, 350 kVBIL.
Same Day Emergency Service
We understand the need for quick solutions. If you're facing an emergency situation, we can be there on the same day you call.

Product Specs / Details
Dry-Type Power Transformers
Up to 15 MVA, 46 kV class (substation or standalone)
Vacuum varnish impregnated coils
Vacuum epoxy impregnated coils
Dry-Type Station Service Transformers
Up to 750 kVA, 34.5 kV Class, 140 kVBIL
Liquid-Filled Power Transformers
Up to 20 MVA, 72.5 kV class, 350 kVBIL
Mineral oil, R-Temp fluid, silicone fluid
Liquid-Filled Distribution Transformers
Up to 3000 kVA, 34.5 kV class, 200 kVBIL
Integrated Outdoor Substations
Up to 5 MVA
Tamperproof, liquid-filled transformer, HV-fused load break switch
Specialty & Custom Transformers
Rectifier – up to 7000 kVA, 27.6 kV (substation or standalone)
Motor-starting auto – 5 & 15 kV, up to 30,000Hp
Drive-isolation – up to 15 kV, 300-2000 Hp
Exciter – generator excitation
Traction duty – up to 7400 kVA, 27.5 kV / phase-shifted, delta wye, harmonic elimination
Super isolation – normal and common noise attenuation to 180 dBA
Rewinds, Repairs, Rebuilds & Retrofits
Magneto Electric offers solutions for any transformer challenge. Our expert service team provides on-site repair, rewinds, rebuilds and retrofitting services for dry and liquid-filled transformers, including:
Replacing radiators for liquid-filled transformers
Assembling dry-type transformers and replacing coils
Replacing cast-coil transformers for VPI dry-type transformers
Upgrading capacities for all transformer types
Seamless retrofitting of transformers to existing equipment within available space and very little downtime
Related Industries
Who We Can Help
Interested in Our Transformer Repair Services?
CONTACT US TODAY!