On-Site Electro-Mechanical Services, We will come to you!
Magneto Electric offers on site electro-mechanical services when you need a team to come to you. Our trained technicians can help solve your problem both on site and in our facility.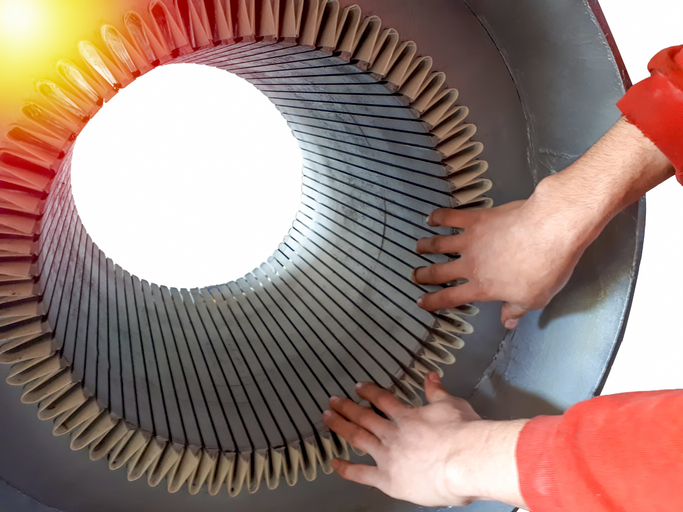 Key Benefits
On Site Electro-Mechanical Services
Our trained technicians can repair, install or remove your electrical motor in site.
Save Time - One Call Does It All
By contracting with Magneto Electric, we can remove, transport your electrical motor to our facility and repair it and return and re-install it with one phone call.
Reduce Errors
Ensure your expensive electrical motors are removed, transported and re-installed by trained experts. With 75 years in the electrical motor repair business we'll professionally service your electric motor.
Electric Motor Installations & Removals in Toronto, GTA & Beyond
Are you having trouble removing or installing a motor? Let the skilled personnel at Magneto Electric solve your problem. In business for over 65 years, we have a wealth of experience in electric motor installations and removals. You can count on our team to complete your job correctly and keep you on schedule while maintaining a focus on safety throughout the process. Regardless of the complexity, we have your solution. Give us a call and get your motor back in business quickly.
CO2 (Dry Ice) Cleaning
CO2 (dry ice) cleaning is the answer to all of your Ontario plant cleaning requirements. The dry ice process can be used on all applications found within your facility. This is an excellent process to remove:
Paint
Grease
Dirt
Mould
Soot
Loose rust
Dry ice cleaning is a process in which dry ice particles are propelled by compressed air. These particles impact the surface at high velocity, cleaning contaminants from the surface. When removing brittle contaminants such as paint, the process creates a compression tension wave between the coating and surface. This wave has enough energy to overcome the bonding strength and the contaminant is then popped off from the inside out. The cleaned surface is dry and ready for re-painting.
Confined Space Electrical Motor Repairs in Ontario
Magneto Electric has added an important new offering to our comprehensive list of services. We now have 6 fully trained and certified confined space technicians to provide installation and repair for your electro-mechanical equipment in confined and hazardous areas.
Confined space training is a specialized certification that's done in addition to normal health and safety training. It's a necessity for providing safe service in areas where atmospheric hazards may occur because of construction, location or contents. These areas are partially or fully enclosed, and are often not designed or constructed for continuous occupancy.
Committed to safety and efficient service, you can count on Magneto Electric to solve your problem. Contact us to discuss your project or schedule service. We are here to serve you 24 hours a day, 7 days a week.
Related Industries
Who We Can Help
Interested in Our On Site Electro-Mechanical Services?
CONTACT US TODAY!