Prevent Mechanical Failure with Dynamic Balancing Available in Mississauga
Electric Motor Dynamic balance is the ability of any mechanical rotating equipment to maintain balance during motion or while switching between positions. It primarily deals with the effect of external forces that affect the mechanical object which is in motion. Dynamic unbalance occurs when the centre of gravity of the rotating object is not aligned in accordance with its centre of rotation. When rotating parts rotate, they generate centrifugal forces. If the sum of these centrifugal forces equals zero, then your equipment is balanced. At Magneto Electric, we offer dynamic balancing in Mississauga. With our services, you can avoid machinery breakdown and save money in the long run.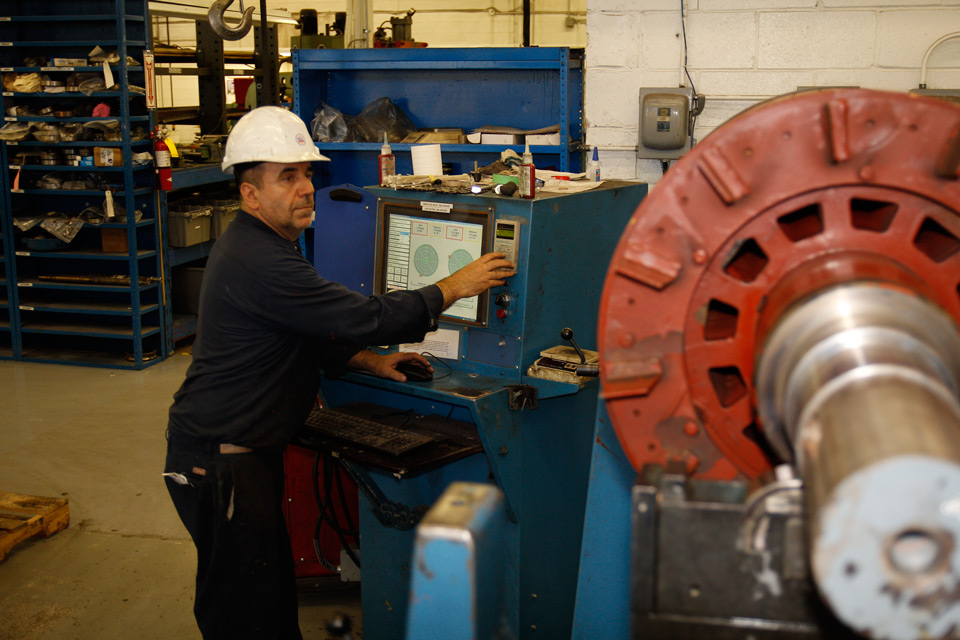 Key Benefits
Advantages of Dynamic Balancing
Ideally, your equipment should work without any vibration. However, in reality, every rotating machine vibrates to some degree. But when the vibration crosses a permissible threshold, then we have a problem. Fortunately, the solution is pretty simple! Call us right away, and we'll take it from there.
Reduced Vibration and Noise
Properly balanced motors and turbines have reduced vibration which leads to less noise.
Increased Bearing Life
Properly balanced electric motors and turbines have reduced vibration which results in less stress on the bearings, increasing service life.
Reduced Operating Cost
Properly balanced electric motors and turbines with less vibration and bearing wear breakdown less frequently reducing down time and operating costs.
State-of-the-Art Equipment
Although you can't expect your industrial equipment to work without any vibration, certain types of vibration need immediate attention. We have computerized soft bearing machines that read out in inches-second, ounce-inches, ounces-grams, gram-inches, mils or any unit of vibration including metric. We balance to API, Mil-STD, NEMA, EASA, G 0.4, G 1.0, G 2.5, G 6.3 or G 16 ISO tolerance standards. We can help you with dynamic balancing on:
Armatures
Blowers
Couplings
Fans
Pulleys
Pump impellers
Rotors
Shafts
Shredders
Turbines
Dynamic balancing of electric motors and other equipment is very crucial to avoid unnecessary vibrations, reduce noise, prevent mechanical failure, and improve balance and efficiency. The unbalance is usually corrected by adding or subtracting weight from or to the rotating parts.
More than 50% of failures in mechanical rotating equipment are due to misalignment or unbalance. However, it's possible to accurately identify and correct the point of unbalance. Why pay for the new equipment when you can rectify the problem with a simple phone call. Your reliable professionals are just a phone call away!
At Magneto Electric, we strive to stay up to date with the latest technology and trends. We employ qualified professionals who're familiar with advanced practices. Let's us help you keep your equipment running smoothly for years to come. Call us today!
Related Industries
Who We Can Help
Interested in Our Services?
CONTACT US TODAY!